The 45th edition of the world exhibition of agricultural machinery closes with the extraordinary number of 327,100 visitors, which improves the record of 2018 (317,000) and establishes itself as a top event on the international scene. Rendez-vous in Bologna, for the next edition, from 6 to 10 November 2024.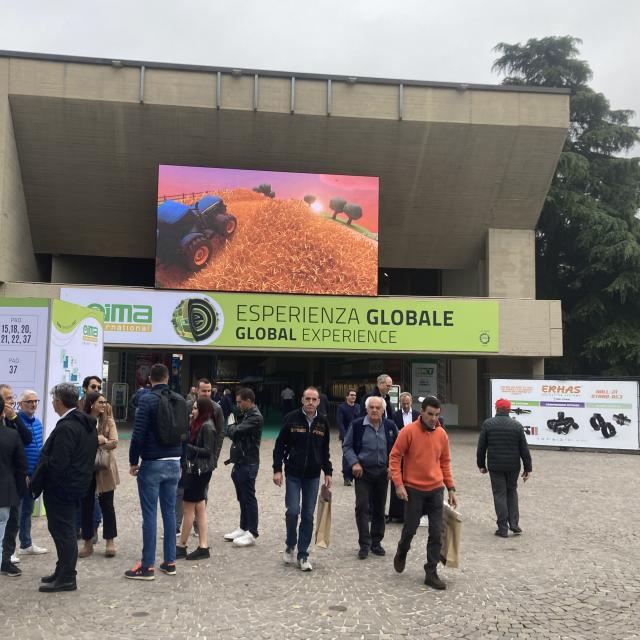 The 2022 edition of EIMA international reached its highest ever result, with 327,100 visitors, of whom 57,300 from abroad. During the five days of the exhibition - an event of worldwide importance for the agricultural machinery sector, organised by FederUnacoma - the number of visitors exceeded the record (317,000) set in the 2018 edition, before the crisis caused by the pandemic.
The Bologna exhibition thus overcame the most critical two-year period for trade exhibition events (2020-2022), brought about first by the health emergency and then by the difficult economic situation, and strengthened its leadership in the trade exhibition landscape. Its international nature is the strong point of this exhibition - the organisers emphasise - it is the element that identifies it and makes it recognisable compared to any other. Foreign visitors, from every continent, accounted for 18% of the total attendance, and 80 official delegations of economic operators - organised thanks to the ICE Agency - animated business meetings in the Foreign Delegations Pavilion that was specially set up.
"The success of EIMA confirms the growing interest in new-generation agricultural technologies to meet the food needs of a global population that will grow by almost a billion within the next ten years - declared FederUnacoma president Alessandro Malavolti - and confirms how in every region of the world, work is being done to innovate cultivation methods, seeking to make scientific and sustainable use of water resources and soil fertility". "In this perspective - added Malavolti - a trade
On the irrigation side, two entire halls are dedicated to the sector through the 'Idrotech' section. The exhibitors were enthusiastic and spoke of a very dynamic show, with many promising business meetings and an exceptional number of visitors, especially on the first two days.
We were able to discover many new products on their stand, especially in the field of water management tools and agriculture 4.0. You could discover these novelties in our new poducts section (https://irrigazette.com/fr/rubriques-articles/nouveaux-produits).
The next edition of EIMA International is already set for 6 to 10 November 2024, but a major event for agricultural machienry will also take place next year, with the return of Agrilevante by EIMA, the exhibition dedicated to mechanisation for crops in the Mediterranean area, which will be held at the Bari exhibition centre from 5 to 8 October 2023.
     Bologna, 14 November 2022