A PAT. PEND heavy-duty stand for solid-set sprinkler systems, with special engineering design for easy and quick assembling, ensures perfect operational flexibility.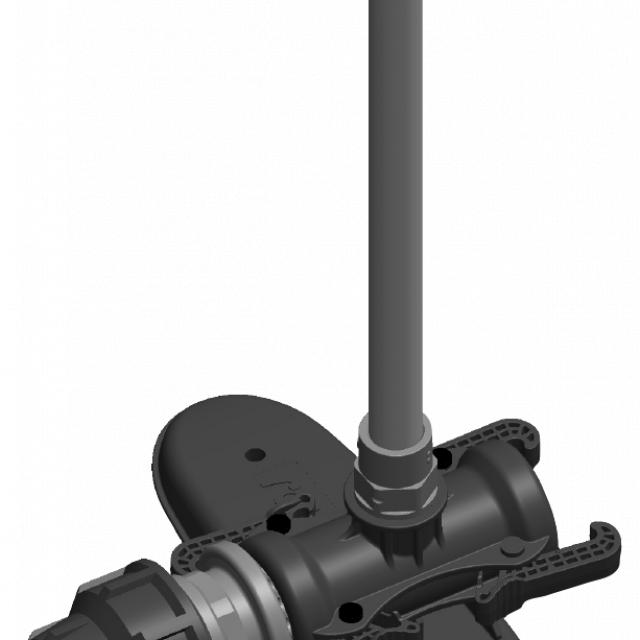 Applications: A very efficient stand for solid-set sprinkler systems enables quick and easy assembly and disassembly of PE pipes. Suitable for all solid-set and semi-permanent sprinkler irrigation systems used for irrigating field crops, such as potatoes, carrots, peanuts and flowers.
Structure and Features: Used with 50 mm PE pipes PN4 (2.0 mm wall thickness). PVC riser with innovative connection reduces vibration and ensures better stability, obtaining maximum irrigation performance. Available with ¾" or 1" PVC risers. Specially designed hook made of heavy-duty material ensures proper work in tough field conditions. Well-designed V-ring prevents leakage under low-pressure conditions during start-up and at the end of irrigation. Special "Zero" V-ring is available for LPD (Leakage Prevention Device) irrigation system. Suitable for a wide range of sprinklers: 5022 SD U, 5022 SD, 6025 SD, 427, Super 10 and MagicDrive for spacing up to 15 m. 50 mm PE pipe available in segments of 9 m, 10 m, and 12 m (other lengths can be supplied on request). Operating pressure range up to 4.0 bar, depending on the sprinkler.