Precision irrigation company WiseConn, has decided to expand its operations into Europe through its subsidiary, WiseConn Europe. With its patented DropControl technology, the company helps farmers improve water resource management and adapt to the effects of climate change. A market leader in California, WiseConn currently has 17,500 monitoring and control devices installed on more than 300,000 hectares in Chile, the United States, Mexico, Peru, Australia and Turkey. The goal of WiseConn Europe is to establish itself as the market leader in precision irrigation throughout Europe and to become a strategic partner in water conservation within the agricultural sector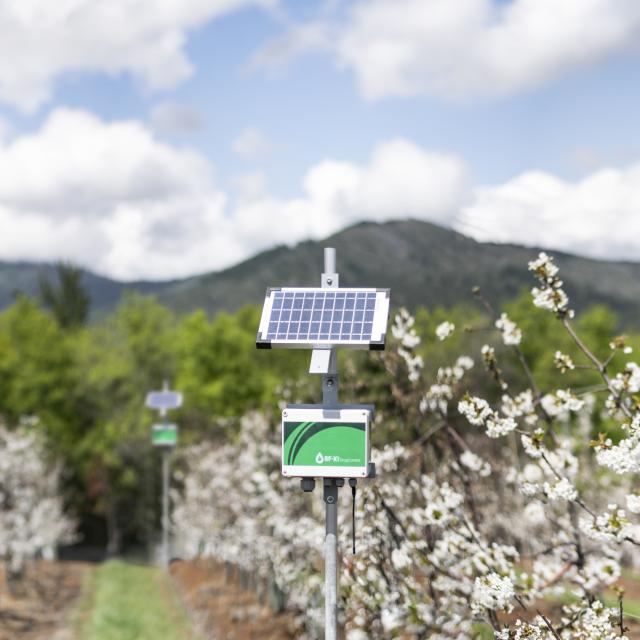 Europe is warming twice as fast as the global average. The summer of 2022 was the hottest on record and 2023 also began with an alarming drought for several European countries. And while the rains have finally arrived in recent months, the effects of climate change are making farming increasingly complex. Extreme weather events such as floods, fires and hailstorms put agriculture at risk. In addition, fluctuations in rainfall variability means that periods of drought alternate with periods of intense rain, putting entire crops under stress. This makes it even more important to manage water resources and control irrigation in an efficient and sustainable way.
Fortunately, innovation and technological advances can help provide industry professionals with increasingly useful and sophisticated tools to improve and streamline water use. This is precisely the goal of WiseConn, a multinational company headquartered in Fresno, California, as it expands its operations into Europe with WiseConn Europe. WiseConn is a well-established high-tech company specializing in precision irrigation, helping growers improve and optimize water management with its patented DropControl technology.
Today, the company has more than 17,500 monitoring and control devices installed on over 300,000 hectares in eight countries.
With offices in Trento (Northern Italy) and Madrid (Spain), WiseConn Europe offers Italian, Spanish, and other European farmers the opportunity to use the advanced DropControl technology. This expansion aims to empower agricultural professionals across the continent to make more efficient use of water resources and improve their agricultural practices.
«The effects of climate change make it even more important to monitor water use in agriculture, a sector that relies heavily on this resource and is a pillar of the European economy. It is well-known that the continent is one of the world's largest producers and exporters of agricultural products. - says Marco Bezzi, Eastern Europe Regional Manager of WiseConn Europe - With DropControl, WiseConn Europe aims to help farmers achieve more efficient irrigation management and thus, effective use of water resources. In an era marked by climate challenges, WiseConn Europe's commitment to helping farmers optimize irrigation practices through innovative technologies such as DropControl is significant. By working closely with agricultural professionals, the company aims to contribute to a more sustainable agriculture and safeguard the vital resource of water for future generations.»
Precision irrigation has become an essential tool in agriculture. It allows the precise control of water supply, ensuring a constant and optimal level of moisture for plant growth. It also facilitates the direct distribution of nutrients to the roots, improving crop health and productivity. In addition, precision irrigation allows irrigation programs and methods to be tailored to the specific needs of each crop. Importantly, it helps farmers  build resilience and adaptability to the challenges of climate change.
DropControl, the patented technology developed by WiseConn, consists of a hardware and software system that allows farmers to manage the irrigation and fertigation of their fields and make intuitive decisions based on accurate and reliable data. The devices, which are installed in the ground and connected to each other, collect data such as weather conditions, soil moisture, and plant humidity, and transmit them to a cloud platform accessible via computers and smartphones. DropControl also enables the activation, deactivation, and adjustment of the irrigation system, consisting of pumps, valves, and other components present in the field.
«DropControl is a simple but highly effective software designed to streamline the analysis and management of water volume, frequency and application rate for irrigation in an efficient and automated manner. All of this can be done remotely and based on weather conditions, precipitation, and forecasts - explains Cristian Duschner, Western Europe Regional Manager of WiseConn Europe - Our solution helps farmers and agribusinesses on several levels. It saves time and streamlines operations by enabling remote field monitoring and the simultaneous triggering of multiple irrigation or fertigation systems without the need to be physically present at all times. It also provides effective control over water use, allowing irrigation only when needed. This not only saves water and energy, but also increases field productivity. In addition, DropControl offers a comprehensive reporting system that provides accurate water and energy consumption data for each crop and field on a weekly, monthly, or end-of-harvest basis».
Operational since last November, WiseConn Europe is actively building a significant network of relationships with installers and other stakeholders in the European agricultural sector. In Italy, it has already carried out field installations in apple orchards and vineyards, targeting key crops such as those in the Franciacorta and Soave regions. In Spain, it has implemented the system in a peach orchard in Fraga, Aragon. The company's goal is to become the leader in precision irrigation in Europe and to position itself as a strategic partner for water conservation in agriculture.