What shape a business would take is rarely ever anticipated in the beginning. Usually, these businesses are kept within the community and stay as a small family enterprise. According to data from the Family Firm Institute, family firms account for two-thirds of all businesses around the world, generate around 70–90 per cent of annual global GDP, and create 50–80 per cent of jobs in the majority of countries worldwide. Family businesses have proven their agility and resilience over the years and especially during the past couple of years. And that's what is at the core of Automat.
The history as we know it
At Automat, it's always been a family affair, whether 50 years ago at the very inception of the company or today when it's scaling new heights. What started as a humble endeavour by Mr. P.K. Jain, with the support of his family, stands today as a manufacturer of more than 400 different products that go into any and every type of micro-irrigation system available globally.
The inception of the Automat Group of Industries took place in 1972, when Mr PK Jain started a small manufacturing unit with an initial capital of only USD 250, to manufacture precision components for watches and defence. Leveraging on his background of horology which he had honed for 5 years in Switzerland, mastering the intricacies of precision machining.
Over the years, Automat graduated from manufacturing components only for watches and defence to making precision components for oil and gas, telecom and a host of other industries.
In the year 1993, the second generation of the family came aboard to continue the legacy as Mr Tushar Jain, a management graduate and an investment banker joined the organisation.  Around the same time a Swiss company, Landis Gyr (Siemens Global), entered the Indian market and Automat was chosen as its manufacturing partner for precision components. This provided challenges and at the same time abundance of opportunities and led to Automat acquiring old plants and machinery of the Swiss watch giant ETA group (owner of marquee brands like Rado etc.) as it strove to increase its manufacturing capabilities. Following this there was a foray into fibre optic connectors as the telecom sector was seeing tremendous growth globally.  Subsequently there were association alliances in precision engineering with large international engineering companies including Schlumberger which chose Automat as their Centre of Excellence for precision turning.
The foray into agriculture
The drought of 1995 in India paved the way for Automat to start its journey into agriculture. The drought led to a sudden steep increase in demand for irrigation sprinklers in the country. This presented an opportunity for Automat to get into sprinkler manufacturing, which was quickly capitalised on, due to its background in precision machining. Thus Automat commenced domestic sales thereafter venturing into International markets, where it got its first breakthrough at the Irrigation Association show at Nashville USA.
The way forward
Automat had pioneered the way to marry mechanics and electronics (mechatronics) in the indian irrigation industry, anticipating the trends of the future. Initially making products for solid set systems, then graduating to Wheel move systems and from thereon to Centre pivot systems. This entire process, helped them gain manufacturing expertise of global quality standards, which in turn made them a market leader in India. The concept of polymers in irrigation was new to India at the turn of 21st century and Automat took the lead to develop irrigation products in plastics and also aggressively sold them globally.
Automat established a set of guiding philosophies to ensure they stayed centred and focused at every step. Mission and Vision statements were established with great clarity, which became a centring anchor for each individual in the organisation and contributed to the growth of Automat.
Here is a brief look at these philosophies:
• To be an organization that empowers and enriches the lives of farmers
• Nurture a team of self-motivated and empowered professionals that care about the environment
• To conceive, develop and manufacture innovative irrigation products benchmarked against the best in industry, at disruptive prices across geographies.
With their ideologies in place and vision clearly ahead, Automat embarked steadfastly – straight into the future!
The current scenario
With technology touching each and every aspect of human life, it was imperative that affordable technology should be offered to farmers. In 2018, Automat decided to adopt 'digitisation' to make the life of farmers in emerging economies and low-income countries, easier and more comfortable. It focused on creating a diversified product portfolio, larger geographical reach, and has taken several new strategic initiatives in this endeavour. It's focused to fulfil the needs of farmers at affordable prices without compromising on quality of its products.
Truly Global?
Today the company is at par with the best in the world. It currently manufactures more than 400 different products across 8 product categories that find its way into different kinds of micro-irrigation systems.
It is one of the rare companies that manufacturers and specialises in all major components of Irrigation Sprinklers, Filtration products of all kind, Fertigation Equipment and Control Valves – Manual and Automatic. Automat has a direct/indirect presence in more than 100 countries – with product portfolios catering to the diverse needs of farmers. 
At Automat, products are designed considering the size of farms, the quality of the water level, the daily usage of the equipment, and the level of the farmers and markets in the growth cycle. It strongly believes in equality across markets and creating similar products for all farmers globally.
To ensure the quality of its products Automat carefully selects its partners. Only global leaders for supply of raw materials, machinery / equipment, and software, are chosen as their technology and knowledge partners. It could be said that their differentiator lies in the 50 years of deep manufacturing and industrial knowledge - married with on-ground agronomical expertise and insights that has created best-in-class products with unique concepts and design. Manufacturing, which is on par with the best in the world, and products with the correct level of specifications as required by the market and availability at very reasonable prices.
It is safe to say that today, innovation is the calling card of the future, and here at Automat – they believe they are the future! In 2022 their first Smart irrigation product was launched, and now Automat continues to move steadfastly towards its endeavour of increased digitisation in agricultural industry.
THE LEADERSHIP TEAM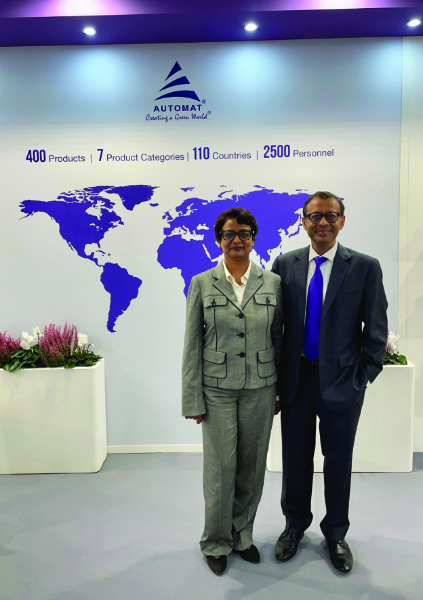 Mrs Rushi Jain and Tushar Jain 
Mr P.K.Jain – Founder & Chairman
The visionary and engineering genius behind the success of the group. An engineering graduate with over 60 years of rich experience and expertise in the fields of precision manufacturing. It is his vision which has been the guiding light for the group.
Mr. Tushar Jain – Group CEO, a dynamic and self-motivated individual who has helped put India on the global map in Micro Irrigation sector. He has a zeal and a drive for empowerment of farmers and water conservation.
Mr. Amit Jain – President Irrigation Division, An Engineer, with 30 years of experience, he has immense knowledge and exposure to the latest Micro Irrigation practices prevailing globally. He spearheads the Sales for both the domestic and international markets and also the operations for the irrigation business.
Ms. Ruchi Jain – Director, Ms. Ruchi is responsible for day to day management of the Engineering business and for greater penetration of the company in the upcoming markets of Central Asia, South-east Asia and Central America.
Mr. Issac Orlans – Chief Technology Officer, based out of Los Angeles, Mr. Isaac started his career in 1980 as an inventor and product developer for Amiad Filtration. His extensive experience spanning 30+ years of managing engineering teams and developing drip and sprinkler products / technologies has been crucial for the technical teams at Automat.
Mr. Anil Kaushal – VP Sales & Marketing, with his 30 years of experience and expertise in Micro Irrigation sector, he is always geared up to solve the challenges farmers face and need to deal with.
Digitization in agriculture and how Automat is leading the charge
"The future is here – and we're leading the charge!" Today, "agricultural digitalization" refers to integrating advanced digital technologies like Artificial Intelligence, robotics, all connected through the "Internet of Things" into the farm production system. The team of 50 high potential people at Lab Automat are constantly working to create newer innovations so as to help farmers across the globe achieve higher yields with lesser effort and better resources conservation.
Some of the Smart Irrigation Products developed internally are:
1. Turbo Self-Cleaning Automatic Screen Filter
2. Mach Clean Sand Media Filter
3. Hydromat Control Valve
4. The Aqua Semi-Automatic Screen Filter
5. The Aqua Semi-Automatic Disc Filter
Automat and Sustainability
Some of the most critical questions facing the world today are:
• Are we capable of producing enough food in the coming years?
• Can we take care of the world's population without harming the planet? Can we achieve it sustainably?
• Can we save our environment and use our freshwater resources more judiciously?
Mr Tushar Jain CEO - Automat, answers to all of these in the affirmative. 
"Our inventive thinking and innovative approach will ensure production of more food even in the toughest conditions. Using smart irrigation, we can change our food-future! Irrigation delivers predictable outcomes as well as stability and is the most immediate way, how we can increase productivity and mitigate risk."
Automat is geared up to revolutionize agriculture worldwide and is all set to look at the future with the promise of innovation and excellence. They are looking at the next 50 years with renewed vigour and vitality while being sustainable and environmentally-conscious.