Senninger Irrigation, Inc. brought citrus grove owners in Florida advanced irrigation technology in the 60s. Joe Senninger, a citrus grower near Orlando, developed the first insect-proof, impact-drive plastic sprinkler head to alleviate problems caused when mud daubers plugged sprinkler nozzles. Success from the wide-ranging acceptance of his insect-proof sprinkler launched Senninger into prominence in the U.S. irrigation industry. Other Senninger innovations were the first molded, thermo-plastic pressure regulator and the first low trajectory sprinkler for minimum pressure operating center pivot machines. The firm also developed a very adaptable drop sprinkler head for use with low energy precision application (LEPA) systems.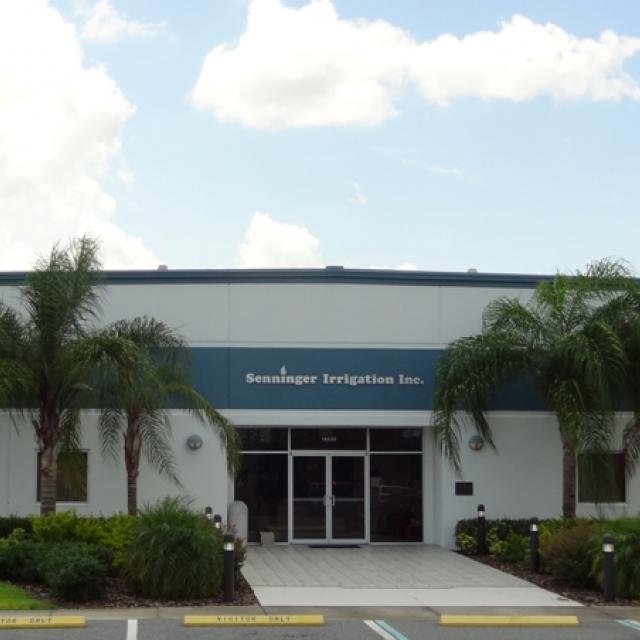 The Early Days
Founded by retired engineer Joe Senninger, the company originated after he solved a bothersome problem for growers in Central Florida. After moving with his family from Park Ridge, Illinois, he bought a 40-acre orange grove and began designing his own irrigation system. He read that the University of Florida advocated the use of permanent overhead sprinklers as the most productive and up-to-date irrigation technique. So, he installed his system using brass impact sprinkler heads according to the college's recom­mendations. All worked well until the system was turned off during the summer rainy season. In mid-October, when he started the pump, Senninger discovered that almost all of the sprinkler heads were inoperative due to mud dauber nests plugging the nozzles. The dried mud from the nests was nearly impossible to remove even after the sprinkler heads were detached from 21-foot risers.
Immediately, Senninger began working on a solu­tion to the mud dauber problem. He knew that many other growers were having the same issue. Before long, he had built prototypes of two different concepts and one be­came the catalyst to launch Senninger Irrigation. His determina­tion through this single challenge led him to design and build the first Insect-Proof Impact Sprinkler, which became Senninger's longest selling product. Soon, Senninger recruited his nephews, Mark and Andy Healy, to focus on engineering, customer service and marketing. Their support helped Senninger grow the business further, as Andy said, "…one step at a time."
In 1970, company-founder Joe Senninger passed away unexpectedly in a tragic boating accident. Eve­ry­one mour­ned the loss, but remained focused on making the compa­ny a success. Hono­ring Senninger's determination, Mark and Andy pushed forward, continuing to make product innovation and ex­cel­lent custo­mer service principal points of the business.
The Senninger team pressed on to pioneer the use of engineering-grade plastics in the sprinkler body and began in-house molding, which provided greatly improved quality control — one of the many business features that began to set them apart. Later, Andy and Mark realized that in order to meet the demands of so many customers in different areas, they needed to set up a dealer network.
The network created a way for those familiar with the specific area needs to directly connect with growers and Senninger. This communication channel has proved to be vital for their business and solving any irrigation challenges.
"That was one of the hallmarks of our company. We'd stay on top of a situation until we could make the customer 100 percent happy," said Andy Healy.
Senninger also created the color-coded nozzle concept in 1969 — which later became industry standard. Committed to standing behind their name and reputation, Senninger assured added customer confidence with their two-year warranty on materials, workmanship and performance. Secured through comprehensive in-house and field testing, customer confidence soared, strengthening grower and vendor relationships.
Starting out in Europe
When European leaders approved open borders in 1986, welcoming the free movement of goods, capital, people and services, the relationship with Senninger began to grow. With so many of Senninger's products designed specifically for low application intensity while still delivering water over a larger area in a uniform pattern, potential customers in Europe became very receptive to learn more about water efficiency specific to their crop and soil requirements.
One of the immediate product needs in Europe was pressure regulation. In 1966, Senninger introduced the first high-quality in-line pressure regulator to the irrigation industry in the United States. Over the years, the black and white-colored regulators have become well-known for strength and reliability. With a wide range of pressure and flows, Senninger introduced European customers to improved uniformity by educating them how to prevent pressure fluctuations and flow deviations, caused by changes in system demand as well as rolling terrain.
When excitement for mechanized irrigation caught on in the region, irrigators began using products such as the i-Wob, LDN (Low Drift Nozzle), Super Spray and more. Senninger also presented specially-developed design software for customizing sprin­kler packages on linear machines, circular pivots and more.
When Senninger first began marketing to Europe approximately 30 years ago, low pressure — high performance irrigation products were not seen as a need. Over time, this reality changed. Energy costs and water conservation now make these products vital to the region.
Through the years, the need and understanding for more sustainable irrigation solutions grew. Senninger has been working with European companies such as 2IE, Bauer, Copersa, RKD, Valmont Europe, Lindsay Europe and many more for 25 years. Now, in over 49 countries worldwide, Senninger's products are widely available through qualified dealers.
Dedicated to Innovation
For 50 years, Senninger has led the way with innovative?products such as: color-coded nozzles for easy size identifi­cation in 1969, which later became industry?stan­dard; Super Spray, the indus­try's most versatile spray nozzle with 22 in­terchan­geable deflec­tor pads in 1979; Wobbler Technology in 1980; a four-mode LEPA Quad Spray in 1986; the double gooseneck and truss rod hose slings in 2003; The One Weight in 2009 as well as the UP3 Easy Clean Nozzle in 2010 and more.
This year alone, Senninger introduced: the Inverted Micro-Sprinkler, LDN® Shroud and the PSR-2. Through research, evaluating current demands and brainstorming new ideas, Senninger's Research & Development division continues to provide quality irri­gation products to meet specific needs.
Celebrating 50 Years:  "Honoring Our History, Thanking Our People"
As Senninger celebrates its 50th year serving the agricultural irrigation industry, everyone is reflecting on how it all began. Company leaders and team members are developing a historical museum within its head­quarters in Clermont, Florida, as well as planning for festivities and sharing timeless stories. Looking back over the last 50 years, it is evident that the commitment and hard work of everyone at Senninger has brought the organization to where it is today.
"We sincerely thank every one of our dedicated team members who have made Senninger the company it is today, our customers who have trusted us over the years to help them achieve their goals, as well as our industry and partners who support us," said president James Burks.
Executive Vice President Mark Healy added, "We have endured through challenging times, which has resulted in an ama­zing team and many product innovations. I have no doubt that our focus on excellence from innovation will continue to move us toward the next 50 years."
Over 50 years, Senninger has developed more effi­cient ways to deliver water to crops and soil across the world. While the com­pany has grown greatly, leaders remain committed to Senninger's core values — honesty, trust, loyalty, respect, teamwork — as the words are etched in stone on the corporate headquarters' entrance sidewalk, flanked by names of each long-term team member as well as their years of service.
"The Senninger story is one full of dedication and perseverance. It is the chronicle of how one man developed an idea, and then invited others to join him," said Chairman Andy Healy. "It's the perfect example of how one challenge and one idea can impact thousands of people."
"Looking Ahead"
For Mark, Andy and the rest of the team, Senninger's 50th anni­versary prompts a look toward what the future may hold.
"Over the last 50 years, the world has changed; people are different; agriculture has grown tremendously and we've developed from local to global," said Andy Healy. "It is hard to imagine what the next 50 will be like."
From one man's idea to a global irrigation business, Senninger is one of the world's leading manufactu­rers of agricultural irrigation products, including sprinklers, spray nozzles and pressure regulators. Specializing in low pressure — high per­formance irrigation products, the compa­ny focuses on hel­ping growers use less water and energy to produce more food, fiber and alternative fuel worldwide. Today, Senninger's innovative products can be found in nurseries, farms, land application of effluent solutions, as well as leaching of gold and copper mining solutions, providing more effective and efficient means of water application and conservation.
Senninger has grown to employ over 200 team members and works with more than 2,000 dealers globally. The company's  94,000-square-foot factory houses production, assembly and molding, while other areas of the campus include engineering, Research & Development, customer service, sales, marketing, operations and more.
"Thank you to everyone who has been willing to be part of the Senninger story thus far," said Mark Healy. "There's no telling how far the company will go. There are still so many opportunities to learn, to grow and to serve."