After BERMAD's full acquisition of the Italian flowmeter producer Euromag, the company decided to develop and promote a new range of electromagnetic flowmeters in reinforced polyamide for irrigation applications called M10. This same product concept that been also developed for the waterworks market by integrating certification for drinking water (named MUT7000).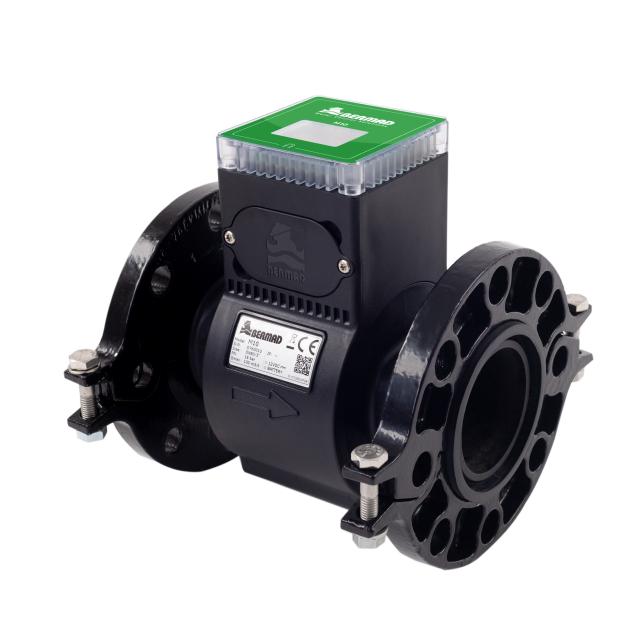 The electromagnetic technology has been strategically chosen because of its high accuracy and reliability. The flowmeter can measure even when the flow rate is low (as long as the pipe is full), or when the water is dirty and has sediments. The integrated electrodes detect when the pipe is empty and send an alert. This device is capable of measuring bi-directionally without needing any minimum upstream and downstream distances.
Electromagnetic technology used in the M10 is based on Faraday's Principle, by which a conductor crossing a magnetic field generates an electrical potential perpendicular to the field itself. On the top and on the lower side of the composite flow tube, two coils are installed; the magnetic field generated by the electric current crossing the coils, induces in the electrodes a potential difference proportional to the flow rate.
This technology doesn't require of moving parts for measuring, so there aren't any elements that can obstruct the water flow, and thus there isn't any head loss.  Because of the inexistence of mechanical measuring parts, no maintenance is required. It is an all-in-one compact unit with an electronic converter integrated in the flowmeter body.
The reinforced polyamide material used in the M10 has many advantages. The composite body is highly resistant and can work in PN16 conditions. It is certified IP68, also thanks to a bi-component resin that increases protection of the internal parts from external agents. The flowmeter's polymeric material is light, so installation is easy.
The M10 can fit many applications as it is available from DN50 (2") to DN150 (6") and has Victaulic OGS connections that can integrate adaptors to flange. The battery can last up to 10 years or can be directly connected to the electrical network at 12VDC. The internal memory can store up to 100,000 lines of active data-logging. Configuration and operation can be done with the Mag-Net app that is available in App Store and Google Play.
To customers that are interested in the flowmeter product range, BERMAD additionally offers other solutions that can be required in the same project such as hydraulic valves for pressure management and air valves for the protection of the network. For irrigation installations, BERMAD usually proposes 100 series hydraulic valve in composite with its unique Y-form with ultra-high flow capacity with minimum pressure loss. The S100 can be installed together with an M10 flowmeter. The BERMAD engineering department offers technical assessment for the selection and configuration of these ranges of products.
For more information about the M10 please click here: https://go.bermad.com/en/m10-lp-eng